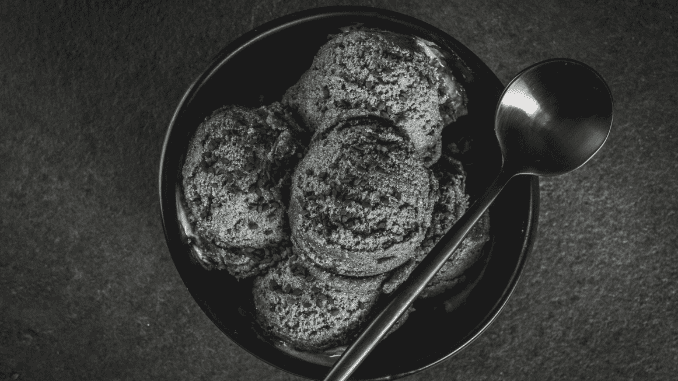 Introduction
Black sesame seeds are black in color with dark brown to black hue. It has a smooth matte finish. Bitter-sweet taste, nutty flavor, crispy texture, and a mild aroma. Black sesame seeds ice cream is believed to have originated in Japan.  It's a traditional sesame-flavored sweet in Japanese cuisine. It is a popular dessert made from the paste of roasted black sesame seeds with milk and sugar incorporated with ice cream.
Black sesame seeds ice cream is rich in calcium and phosphorus and thus is good for bones, muscle function, and metabolism. Therefore, can be a part of a healthy diet. 
The use of black sesame seeds in ice cream makes it a distinct color with a sweet bitter nutty flavor. It has a unique taste with visual appeal. Over time it has become popular all over the world.
Origin of black sesame ice cream
A popular dessert, black sesame ice cream, is famous in many Asian cuisines. 

It is believed to have originated in Japan associated with traditional Japanese flavor and culinary activities.

It has a unique distinctive color and earthy, nutty flavor from ground black sesame seeds. 

Slowly over time, this unique nutritious ice cream has gained popularity all over the world.
Taste and aroma of black sesame ice cream
The black sesame seeds ice cream has a unique sweet-bitter taste like dark chocolate. 

The flavor is nutty with a slight sweetness from the sugar of the ice cream.

Satisfying crunchy texture when mixing semi-crushed seeds in ice cream.

Because sesame seeds are oily, they tend to be creamy and smooth in nature.

It could have an almond-like flavor when it is baked or toasted and mixed with ice cream.

These seeds provide a nutty, earthy flavor in ice cream.

Chocolate, vanilla, and cinnamon-flavored ice cream go well with black sesame seeds.
Nutrient contents of sesame seeds
Sesame seeds contain a variety of health-friendly nutrients. It is a rich source of protein, which could be a great addition to vegan diets. Also is famous for being an "all-purpose nutrient bank" and "the crown of eight grains". It has been known since ancient times as "Queen of oil" and contains 80% of unsaturated fatty acids. Sesamin and sesamolin are two main lignins and have various bioactive effects.
Sesamum indicum, the sesame plant seeds contains calcium, vitamin B, E, and antioxidants, dietary fiber, iron, magnesium, and amino acids.

These seeds are high in vitamin A, zinc, copper, Selenium, and retinol.

It also contains carotene, alpha, cryptoxanthin, lycopene, lutein, and zeaxanthin.

Sesame seeds are rich in Thiamin, niacin, pantothenic acid, vitamin B-6, B-12, vitamin K, and folic acid.

Cholesterol, fatty acids, total monounsaturated, total polyunsaturated, and folate are also present in sesame seeds.

In addition, sesame seeds contain sesamin and sesamolin.

Sesame oil is rich in unsaturated fatty acids, fat-soluble vitamins, etc.
Health benefits of black sesame seeds
1. Fight infection
Two unique components of sesame seeds sesamin and sesamolin have antibacterial and anti-inflammatory properties to protect the cell from damage. Also helps cells to fight with foreign particles. Antibacterial activity of sesame seeds against staph infection and strep throat. Also protects from fungal infections like Athletes' feet. 
2. Anticarcinogenic effects
Sesamol in sesame seed has the following properties:
 Anti-inflammatory

Antioxidant   

Antimutagenic

Anti-hepatotoxic

Chemopreventive

Anti-tumor effects

Anti Melanogenic

Antihypertensive

Anti-cholesterol
All these characteristics play a vital role in cancer prevention and to some extent in the therapeutic process. It has the ability to regulate apoptosis( cell death).
3. Antioxidant activities
The main active component of sesame seeds is sesame lignans. Presence of sesame lignans in sesame seeds has strong antioxidant properties. It has beneficial effects on regulating blood lipids and improving liver health. These are all for oxidative stability in sesame oil. 
Research studies show that sesamin, the most abundant lignans in sesame seeds, has the ability to lower cholesterol, blood pressure stabilization, and lipid metabolism regulation. Sesamin has the ability to scavenge free radicals and reduce ROS production to protect cells from oxidative stress. Sesamin could be used as an anti-apoptotic drug for its ability to reduce the level of apoptosis.
4. Cholesterol-lowering  and lipid-regulating ability
Lipid-lowering effects of sesamin on fatty acids and cholesterol metabolism lead to lowering LDL, VLDL, and TG levels, reversibly increasing the HDL level.
5. Effects on Liver and Kidney
Sesamin is able to inhibit renal ROS production to suppress oxidative stress, inflammation, and apoptosis in the kidney. Research studies show that sisamin can significantly reverse the elevation of ALT, AST, and total bilirubin which has good hepatoprotective and anti-fibrotic effects. 
6. Hypoglycemic effects
Sesame oil could reduce the symptoms of hyperglycemia in type 2 diabetic patients and improve lipid profile.
7. Anti-inflammatory effects
Sesamin has anti-inflammatory effects to reduce rheumatoid arthritis and reduce the mRNA expression in human fibroblast cell lines.
8. Protect cardiovascular health
A major risk factor for cardiovascular health is hypertension. Sesame seeds are rich in lignans, phytosterols, vitamin E, and polyunsaturated fatty acids and have a great effect on hypertension. Research studies indicate sesamin may reduce the cardiovascular risk in rheumatoid patients by significantly reducing serum MDA levels and increasing TAC levels.
9. Anti-tumor effects
The main anti-cancer effects of sesamin to its contribution to pro-apoptotic, anti-inflammatory, anti-metastatic, anti-proliferative, anti-angiogenic, and pro-auto phagocytic effects to slow down the development and progression of tumors.
10. Sesame seeds for hair health
Plant polyphenol, present in sesame seed oil is rich in vitamins, amino acids, and minerals beneficial for hair growth, and luster. Also beneficial for untimely graying of hair.
11. Gastrointestinal effects
Due to its high content of fiber, it is really beneficial for constipation disorder and digestive problems. Protect the colon and prevent gastrointestinal disorders.
12. Beneficial for anaemia
Due to its high content of iron, the consumption of black sesame seed is good for the production of hemoglobin. 
13. Alzheimer's disease
The presence of antioxidants and anti-inflammatory properties in sesame seeds reduce the production of ROS in brain cells thus controlling the production of pro-inflammatory molecules which are responsible for Alzheimer's disease.  
14. Sesame seeds on fertility
Sesame seeds are a rich source of lignins like sesamolin, and sesamin due to having anti-tumorigenic, estrogenic,  anti-estrogenic, and free radical scavenging properties, it is very beneficial for male infertility. A recent research study shows that the use of sesame seeds improves the sperm count, motility, and morphology of the sperm.
Concern about the calorie content in ice cream and how to moderate
Generally, ice cream is considered high in sugar and fat thus high-calorie dessert with less nutrition. It is harmful to obesity, and cardiovascular and liver-related disease.
Approx 267 calories from 1 cup of ice cream, loaded with calories, sugar, and fat. Most varieties of ice cream contain 12-24 gm of added sugar in a 65-serving size. Also, many varieties of ice cream are highly processed with artificial flavors and additives. Benzophenone, which is the most used artificial flavoring agent, has carcinogenic effects.
Some research studies show that few artificial food dyes in ice cream are responsible for hyperactivity and behavioral issues in children. Guar gum is used to thicken the ice cream associated with mild bloating, gas, and cramps. It is a high-calorie load diet that promotes rapid weight gain. But if we want to make it less calorie and nutritious, here are the following ways: 
Ice cream must be made from low-fat milk.

Use jaggery or honey instead of white sugar

The serving portion must be controlled.

Add dry fruits to get fiber and protein which makes you fuller from the small amount

Add bioactive compounds( puree or juice form) for good nutrition.

Add nutrient-rich fruit pulp or small pieces.

To dress up ice cream in a nutritious and healthy way we can add crunchy whole grain cereal which bumps up with vitamins, minerals, and fiber.

We can use protein powder, cocoa powder,  vanilla beans, and extra-virgin olive oil as toppings.

 The most important thing is to practice portion control and moderation of intake.

Practice taking homemade healthy and nutrient-dense ice cream.

It can be a well-balanced, healthy diet if we consume it occasionally with a moderate portion.
Recipe for making black sesame ice cream at home
Ingredients
Black sesame seed

Jaggery powder or honey

Hot water

Low-fat milk

Vanilla essence

Egg yolks

Cornstarch

Few raw sesame seeds

Crushed almonds, raisins, pistachio, and cashew
Method of preparation
One of the key ingredients is to make sesame paste

. 

First, toast the sesame seed 

Then grind it and make a smooth and creamy paste with the help of jaggery powder and hot water with a pinch of extra virgin olive oil.

Now it is ready to incorporate into ice cream.
Preparation of ice cream
 Take a saucepan to add the milk, vanilla essence, and low-fat cream, and heat all these things with continuous stirring to avoid grumpiness.

  

Base making: Add egg yolks, jaggery, cornstarch, and black sesame seed paste in a bowl and whisk until smooth

Slowly pour the rest of the  milk into the bowl while whisking and then pour all these things back into the saucepan   

        

Stir continuously  over low to medium heat for thickening like custard,

Remove the pan from heat and leave it to cool. 

Keep it in the freezer for 30 min

Churning for 30-45 min to avoid the crystal forming. 

Keep it in the fridge for 2-3 hours before serving.

Garnish with crushed dry fruits.               
Q&A
1. What is the taste of black sesame ice cream?
Black sesame ice cream is a pleasantly sweet, bitter, crunchy,  earthy, rich flavored ice cream.
2. What is black sesame ice cream made of?
Black sesame seeds ice cream is made with a roasted paste of black sesame seeds mixed with normal ice cream.
3. What flavors go well with black sesame seeds?
Generally, chocolate, cinnamon, and vanilla flavors go well with black sesame ice cream.
4. What does black sesame taste like?
Black sesame seed ice cream has a rich,  light sweet nutty earthy flavor.
Summary
Good health comes with good-tasting food. Health and taste will be maintained simultaneously. Black sesame seeds have many benefits for our various bodily functions.
It is a good source of protein, fiber, and healthy fats.

Rich in minerals like calcium, iron, magnesium, zinc, etc.

Vitamins like A, E, and C are available in the seeds

Rich sources of antioxidants due to their lignans, protect 
Cell damage to reduce ROS production. They have anti-inflammatory properties and are capable of lowering the bad cholesterol.
Incorporating black sesame seeds in our diet with moderate limitations supports cardiovascular health, strengthening of bones, better hemoglobin range in blood, infertility management, and digestive disorders.
References
Asokan S, Emmadi P, Chamundeswari R. Effect of oil pulling on plaque induced gingivitis: A randomized, controlled, triple-blind study. Indian Journal of Dental Research. 2009; 20(1): 47.

https://pubmed.ncbi.nlm.nih.gov/19336860/

Khani B, Bidgoli SR, Moattar F, Hassani H. Effect of sesame on sperm quality of infertile men. Journal of research in medical sciences: the official journal of Isfahan University of Medical Sciences. 2013; 18(3):184. https://www.ncbi.nlm.nih.gov/pmc/articles/PMC3732896/
Lee SY, Son DJ, Lee YK et al. Inhibitory effect of sesaminol glucosides on lipopolysaccharide-induced NF-κB activation and target gene expression in cultured rat astrocytes. Neurosci Res.2006; 56(2): 204-212. https://pubmed.ncbi.nlm.nih.gov/16842873/
Effect of sesame on sperm quality of infertile menBehnaz Khani, Soroor Rabbani Bidgoli, Fariborz Moattar, and Hassan Hassani.  https://pubmed.ncbi.nlm.nih.gov/16842873/
Written By: Ruchira Das