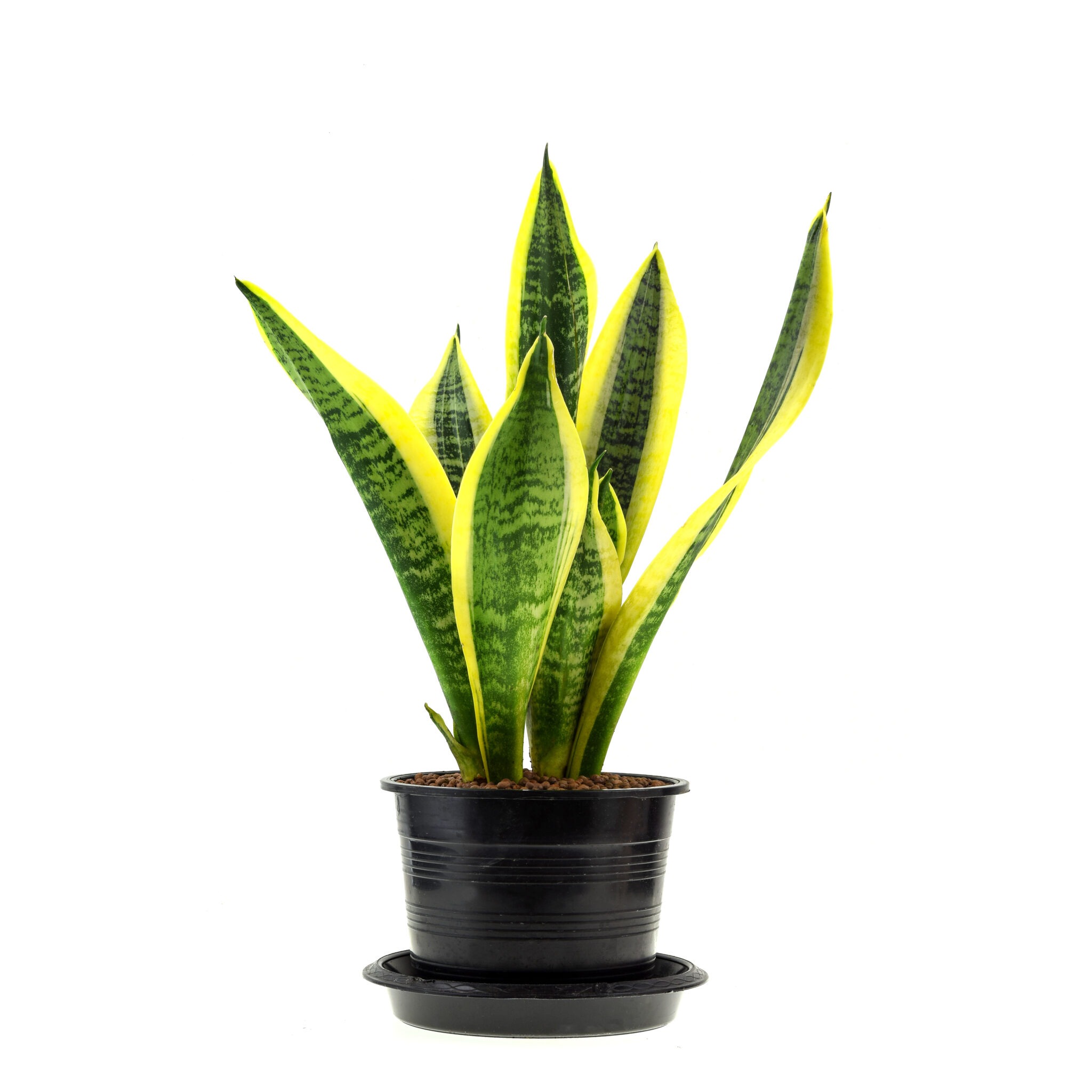 Snake Plant
This plant is native to tropical countries like India, Indonesia, and Africa. It has typical evergreen sword-shaped leaves that propagate mainly via creeping rhizomes. Due to the succulent nature of the snake plant, it requires less water to survive(1). The plant is grown both indoors and outdoors as a decorative plant. Snake plant health benefits are written below.
Snake Plant benefits and its air purification properties
Yes, the Snake plant cleans the air. This plant is not only known for its beautiful foliage structure but also as an efficient air purifier as per the NASA research report. The plant absorbs indoor air pollutants like benzene, formaldehyde, xylene, and toluene. Along with this the snake plant also has a higher efficiency in absorbing carbon dioxide (2) and it is one of the few plants that release oxygen during the night. This property of releasing oxygen during the night makes the snake plant a beautiful option as a bedroom plant.
Common & Botanical name
Common name – Mother-in-law's-tongue
Botanical name – Sansevieria trifasciata.
Snake plant benefits
Some of the Snake plant health benefits are absorbing pollutants like toluene, formaldehyde, xylene & benzene. It's an indoor plant & needs low maintenance.
1. Absorbs Carbon Dioxide
In a study done in 2015, it was observed that snake plants can remove carbon dioxide during nighttime and release oxygen. This helps in providing a better life quality and a healthy environment (2).
2. Absorbs benzene
According to WHO major sources of benzene are automobiles from the attached garage, heating and cooking systems, and solvents. Exposure to benzene causes nausea, headache, and vomiting and has a low but non-negligible carcinogenic risk. Sources of benzene are tools and attached garages, gas and charcoal cooking, solvents, etc (3) & (4). Snake plants help in the absorption of benzene in indoor conditions.
3. Removes formaldehyde
Snake plants help in absorbing formaldehyde from the air according to studies done by NASA. formaldehyde emits from cooking. Smoking, cosmetics, paints, etc. As per WHO studies indoor wooden furniture with formaldehyde resin paints is the main source of formaldehyde pollution (5).
4. Absorbs xylene
According to the Department of health and human service U.S.A., xylene is produced from a petroleum product. Typically indoor air has xylene 1-10 ppb. Buildings with poor ventilation have a higher indoor level of xylene. Other sources of xylene are paints and wooden furniture (6). Therefore snake plants are useful in building with poor ventilation to absorb xylene from the indoor environment and thus help in coping with sick building syndrome.
5. Absorbs toluene
Exposure to pollutant toluene causes central nervous system dysfunction and necrosis. Children exposed to these harmful pollutants also suffer developmental problems and reproductive problems in females. Irritation of upper respiratory tract and eyes. The major source of toluene pollution is gasoline, solvents in paints, plastic and soda bottles, paint cosmetics, and other organic chemicals (7). Snake plants also help in removing toluene from the indoor environment.
How to take care of the Snake plant?
Snake plants or Sansevieria are very hardy and tolerant plants. They can survive in drought and without very low or no maintenance. Irrigation is one of the most important parts if you are talking about taking care of a plant. The water requirements of each and every plant are different. Some need regular watering, some periodic basis.
1. Excess watering is not good for Snake plant
Keeping a snake plant in the house one should be very careful about when and how much water should be given to the plant. Excess watering of the plant results in root rotting. Therefore please make sure that the soil is almost dry before watering a snake plant.
2. Snake plants need medium light
The snake plant requires medium light, therefore, shade or an indoor environment is very appropriate for the good growth of the plant.
3. Soil with proper drainage is good for Snake plant
Porous soil or soil having proper drainage is most appropriate for the plant. Snake plant roots rot very easily if there is water logging in the soil. Therefore proper aerated and porous soil is required.
4. Fertilize once a year is sufficient for the Snake plant
Snake plants are very hardy plants that require very fewer fertilizers. Organic manure is although best for the plant. Fortified the soil once a year with either organic manure or all-purpose plant fertilizers.
How to Propagate Snake plant?
The plant mainly propagates through rhizomes and leaf cuttings. Propagation by rhizomes is best if the plant is in the garden. Leaf-cutting propagation is best for potted plants. Cut a leaf of the plant (2 to 3 inches) and place them one inch deep into the soil. The propagation should be done in the spring or summer seasons.
More articles on indoor air purifying plant