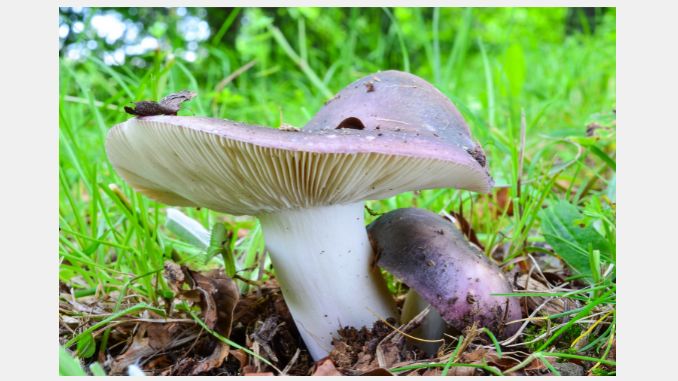 Know in one minute about Russula cyanoxantha 
Russula cyanoxantha is one of the common species of Russula mushrooms.
Commonly known as a charcoal burner.
Rich in antioxidant properties.
It is a good edible mushroom with a nutty taste.
It serves as a functional food to promote health benefits.
This mushroom is low in fat and caloric value, therefore it is used as a dietary supplement.
Introduction
Russula cyanoxantha is a mushroom that relies on its host plant for its nutrition and growth. As an ectomycorrhizal fungus, it establishes a symbiotic relationship with the host plant to grow. It is typically found in small groups on deciduous trees such as beech, birch, and oak. This mushroom is commonly known as charcoal burner and is known for its delicious nutty flavour and unique gill texture. The gills are greasy and non-brittle, and the flesh is thick, firm, and soft. Although highly sought after for its culinary appeal, it is not widely commercialized due to cultivation difficulties. It is predominantly found in the wild environment (1).
Common name
Russula cyanoxantha is commonly known as Charcoal burner.
Synonyms
Russula cyanoxantha f.peltereaui Singer
Agaricus cyanoxantha schaeff
Russula furcata, Russula cynoxantha var. cyanoxantha (schaeff) Fr., 
Russula cyanoxantha f. cutefracta (cooke) sarnari.
Classification 
| | |
| --- | --- |
| Kingdom | Fungi |
| Division | Basidiomycota |
| Class  | Agaricomycetes |
| Order | Russulales |
| Family | Russulaceae |
| Genus | Russula |
| Species | R. cyanoxantha |
Appearance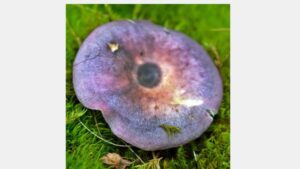 The mushroom Russula cyanoxantha is a soft gill mushroom with pure white strips without having brownish or yellow spots and white spore prints (1). The cap of this mushroom is greenish to brown in colour. They are very fragile in structure with weak gills and are greasy in appearance. 
Let us see all the parts of this mushroom and its special characters.
1. Caps
The cap of the mushroom is usually purple, brown or grey. When young, it is round and later becomes convex. As it matures, the cap develops a depression in the centre, becoming flatter.
2. Gills
Gills are brittle, greasy and flexible
3. Stem
Stem is cylindrical, 15-30 mm in diameter and 5 to 10 cm tall. White with purple tingled in colour. The stem flesh is white.
4. Spores
Spores are white in coloured, ellipsoidal in shape, and 7-9 X 5-6 μm in size. Spore prints are white, with no distinctive colour and with a mild taste.
Odour
There is no specific odour of this mushroom
Taste
Mild nutty taste
Habitat
commonly found in deciduous as well as coniferous forests. Majorly found in North America.
Edibility
It is a good edible mushroom with a mild taste 
NOTE: Russula xerampelina an other species of Russula mushroom have similar colours but there is a difference in odour. The Russula cyanoxantha has no distinct odour whereas Russula xerampelina have a fishy odour, so do not confuse it with Russula xerampelina while identifying Russula cyanoxantha. The gills' flexibility is also considered a good identifying feature of this mushroom.
Bioactive compounds
Russula cyanoxantha contains a number of bioactive compounds (4) such as inosine, adenine, L-pyroglutamic acid, fumaric acid, D-alditol etc.
The  phenolic content is 14.39 mg/g , flavonoid content is 1.59 mg/g , ascorbic acid content is 0.17 mg/g (5).
Russula cyanoxantha benefits
It is full of antioxidants and also useful as a nutraceutical or functional food to promote health benefits. Not only they are rich in nutrients but also low in fat and caloric value.
The citric acid and fumaric acid found in this mushroom are effective against various diseases.
As this mushroom is low in fat and caloric value it can help in controlling the blood glucose level and hence act as an anti-diabetic food.
1. Antioxidant and antimicrobial activity
The mushroom Russula cyanoxantha is recognized for its antioxidant and antimicrobial activity. The cap of this mushroom contains citric acid, which is the essential component responsible for its antioxidant activity, as demonstrated by studies (2).
2. Inhibit cancerous growth
Ergon is the bioactive compound present in the mushroom which acts as a cytotoxic substance. And thus helps in stopping or slowing down cancerous cell growth. Studies on HepG2 cells (Type of cancer cell) confirm that these compounds in the mushrooms help in shrinking the cancer cell and thus make it incompatible for further growth (3).
Another major study indicates that the polysaccharides from the Russula cynoxantha have the ability to inhibit the growth of tumour cells by up to 70%.
3. Nutraceutical
Different studies indicated that the Russula cyanoxantha can be used as a nutraceutical or functional food to promote health benefits. The consumption of this mushroom may help to improve health as it acts as a natural dietary supplement (1).
4. Anti-diabetic effects
The bioactive compound present in mushrooms shows anti-diabetic properties by controlling the blood glucose level and diabetic difficulties, as they are rich in nutrients and low in fat and calories.
5. Anti-inflammatory effects
The fruiting bodies of Russula cyanoxantha contain fumaric acid and citric acids. Which may show an effective role against various diseases due to their antioxidant activity. Fumaric acid shows anti-inflammatory properties. that is it helps in reducing the inflammation of tye body.
Russula cyanoxantha Side effect
There is no such side effect of consuming Russula cyanoxantha, it is a good edible mushroom with a nutty taste. But do not confuse it with Russula xerampelina as the Russula cynoxantha and  Russula xerampelina look alike in colour. the only difference is their odour, the former is having no odour while the later is having a fishy odour and gills flexibility.
How to eat Russula cyanoxantha
Russula cyanoxantha is an edible mushroom with a mouthwatering flavour and soft texture.  It can be eaten as salad, soup, or as an omelette filling, or simply sauteed in oil with onion and served with bread or meat.
Recipes
1. Saute Russula cyanoxantha
The simple way to prepare the Russula cyanoxantha is just to fry it in a pan with olive oil, black pepper and some parsley and served it with bread. It is suitable for many kinds of preparation.
2. Russula cyanoxantha soup recipe
Ingredients
2 tablespoon oil
4-5 garlic slices
1 onion
200 gm mushroom
Salt
1 tablespoon butter
1 tablespoon flour
1 cup water
Basil leaves
Method
Add 2 tablespoons of oil, add 4-5 slices of garlic and 1 chopped onion in a preheated pan. Cook it on a low flame until the onion turns brown. Now add mushroom and cook it for 5- 10 minutes. Add 1 tablespoon of butter and 1 tablespoon of flour, salt as per your taste and 1 cup of water and cook it for 10 minutes. Grind the above mixture and add some basil leaves and serve it.
Written By: Neetu Ladiya