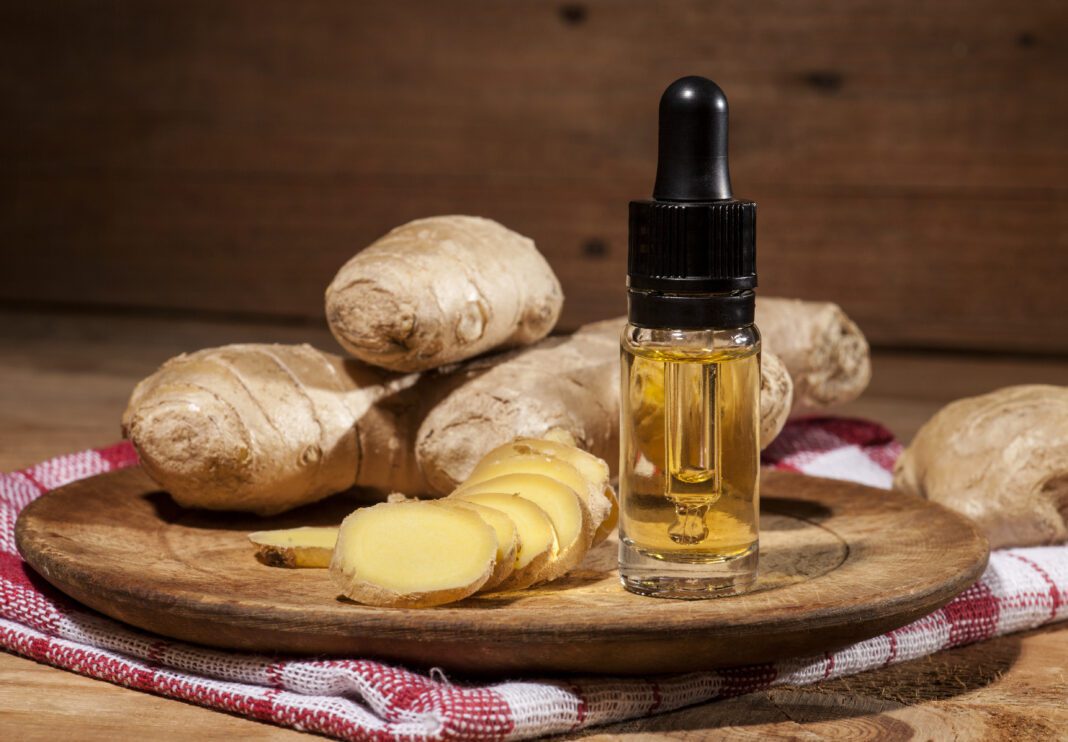 Know in one minute about Ginger Essential Oil Health Benefits
Ginger essential oil benefits are linked to its anti-inflammatory properties and it's very
useful
in joint pains and knee pain. It is also good for nausea and vomiting. Ginger oil contains citral, eucalyptol, and camphor that's why it's widely used during cough. Aromatherapy with ginger oil improves the conditions of patients having cancer or had stomach surgery
.
Introduction
Ginger essential oil is obtained by steam distillation of ginger (Zingiber officinale Roscoe) rhizomes (dried roots). The color of the oil is light yellow volatile with a pleasant odor. Ginger essential oil benefits mainly include joint pain, joint stiffness, lumbar and pelvic pain, and spasms.
Uses of Ginger essential oil
Ginger essential oil is used in various foods, beverages, such as soft drinks, soap, detergent, creams-lotion, perfumes, and many types of medicinal products. Recently active fibers containing ginger essential oil (12%) are used in food packaging to reduce microbial contamination (1).
Geographical distribution
The ginger plant is native in tropical Asia and generally cultivated in most American tropical countries with widespread use in popular medicine.
Common name
Ingwerol (ginger oil)
Constituents of Ginger essential oil
Ginger essential oil benefits are due to the high content of sesquiterpene hydrocarbons, in particular, zingiberene, ar-curcumene, β-bisabolene, and β-ses-quiphellandrene, and the monoterpenoids geranial, neral, camphene, and other components as follows (2)
Nutrients
Percentage

Oil content

96.93 %

α

‐zingiberene

28.62 %

Camphene

9.32 %

Ar-curcumene

9.09 %

β-sesquiphellandrene

8.64 %

β-phellandrene

7.97 %

E,E-α-farnesene

5.52 %

Β- bisabolene

5.40 %

α-pinene

2.57 %

Geranial

2.08 %

Endo-borneol

2.04 %

Neral

1.72 %

Valencene

1.42 %

1,8-cineol

1.20 %

Germacrene D

1.03 %
Health benefits of Ginger essential oil
Ginger essential oil is useful in Iranian Traditional Medicine (ITM) for joint pain, joint stiffness, lumbar and pelvic pain, and spasms. This oil is also beneficial for anti-inflammatory, antioxidant, antinociceptive, and antispasmodic properties.
1. Gastroprotective properties of Ginger essential oil
Ginger oil contains zingiberene (31.08%) which is beneficial to inhibit the growth of ulcers up to 85.1%. It also maintains the integrity and structure of the gastric mucosa. Thus this oil administration protects from an ethanol-induced ulcer, oxidative stress, and gastric damage (3).
2. Treat Nausea and vomiting
Some people suffer from postoperative nausea (PON) after anesthesia and abdominal surgery. Aromatherapy with Ginger oil shows a wonderful effect on the treatment of PON (4).  Both ginger essential oil (5 %) and a blend of essential oils of ginger, spearmint, peppermint, and cardamom are effective in reducing nausea (80%), and vomiting (first 6 h after inhalation) when compared to the pure water and rose oil (5). Ginger oil preparations are used to treat nausea in pregnancy (6).
3. Treat Knee Pain
Ginger essential oil (1%) and orange essential oil (0.5%) in combination reduce the knee pain intensity, stiffness level and enhance physical function. Thus this oil aroma-massage therapy is also useful to alleviate knee pain (7).
4. Antioxidant and antimicrobial properties of Ginger essential oil
The oil mainly contains phenolic compounds (eugenol, shogaols, zingerone, gingerdiols, gingerols, etc.) which have the ability to remove harmful radicals from the body, inhibit tissue lipid peroxidation. Moreover, ginger oil also shows antimycobacterial activity against Escherichia coli, Bacillus subtilis, and Staphylococcus aureus.
This oil is also showing antifungal activity against Candida albicans, Aspergillus niger, A. flavus, Fusarium moniliforme, F. oxysporum F. verticillioides (8). Thus it is very helpful for the treatment of many bacterial and fungal diseases (9).
5. Anti-inflammatory and antinociceptive properties
Ginger essential oil show strong anti-inflammatory activity reduces swelling. This oil is also beneficial to block the detection of a painful or injurious stimulus by sensory neurons thus reduce acetic acid-induced writhing movements thus reduce the risk of athetosis (10).
6. Ginger essential oil helps in Relieving Spasms
Spasm is an abnormal contraction in muscles however citral (24 %) found in ginger essential oil has a relaxing effect on smooth muscle contractility. Thus this oil is likely to reduce uterine contractions and relieves spasms (11).
7. Treat the liver disease
Excessive alcohol intake causes alcoholic fatty liver disease (AFLD). Ginger essential oil consumption every day for 4 weeks plays a tremendous role in the treatment of this disease because this oil reduces amounts of metabolites such as d-glucurono-6,3-lactone, glycerol-3-phosphate, pyruvic acid, lithocholic acid, 2-pyrocatechuic acid, and prostaglandin E1 were increased after alcohol administration.
Thus ginger oil possesses hepatoprotective properties against AFLD (12). Furthermore, this oil prevents lipid peroxidation and scavenge harmful free radicals thus this oil show hepatoprotective activities and prevents chemically-induced acute liver injury (13).
8. Enhance immunity
Ginger essential oil (once a day, orally, for a week) shows a wonderful effect in restoring the decreased humoral immunity and proliferation of T lymphocyte. Thus this oil possesses immunomodulatory activity which improves the immune response (14).
9. Treat brain injury
Ginger essential oil acts as an anti-inflammatory and agent which lowers the incidence/progression of neurological diseases by inhibition of bad enzyme (AChE and ADA) activities (15).
10. Treat rheumatoid arthritis
Gingerols found in ginger essential oil (28 mg/kg/dip) prevent chronic joint inflammation (38 % in 28 days) (16).
Moreover, oral intake of ginger oil (33 mg/kg) for 26 days reduces paw and joint swelling associated with severe chronic adjuvant arthritis. Thus this oil also shows antirheumatic properties by preventing both joint inflammation, destruction, and reduces arthritis pain (17).
Furthermore, self knee massage for 20 min with ginger oil twice a week improved knee pain, stiffness, fatigue, and activities of daily living without any allergic reactions
11. Healthy kidney due to the anti-inflammatory activity of ginger oil
As we know that ginger oil act as an anti-inflammatory agent which inhibits renal ADA activity (bad enzyme) and modulates inflammatory cytokines by their nephroprotective activity thus protect the kidney from injury (18).
12. Toxic to weeds
Ginger essential oil contain-zingiberene, β-sesquiphelladrene, ar-curcumene, and β-bisabolene which show phytotoxic activity against weeds (Portulaca oleracea, Lolium multiflorum, and Cortaderia selloana)(19).
13. Aromatherapy with ginger oil improves the condition in a cancer patient
Aromatherapy with ginger and coconut oil improved the cellular immunity of cancer patients by boosting lymphocyte numbers (11%) and decreasing fatigue, presenting symptoms, pain, and stress in cancer patients (20).
14. Treats cough due to citral, eucalyptol, and camphor of Ginger oil
Ginger essential oil is a good source of citral, eucalyptol, and camphor which acts as a bronchodilator agent that has a relaxing effect on airway and cough thus may useful for the treatment of respiratory problems (21).
Important fact
Oral consumption of ginger essential oil (100 to 150 µl/kg BW for 12 weeks) to laying Japanese quails increase egg weight, HDL-cholesterol level, and decreased serum and egg cholesterols without any adverse effect on feed intake and body weight gain (22).
Side-effects of Ginger essential oil
According to FEMA and FDA as GRAS ginger oil is not toxic and approved safe by oral administrations of up to 500 mg/kg per day (no observed adverse effect level) (23).
1. Risk of Clastogenic effect
Intake of ginger oil can cause some chromosomal irregularities due to the presence of mutagenic substances. Therefore precaution should be needed before consumption (24).
How to prepare ginger oil
The ginger essential oil was made by crushing rhizome in water (1000 mL) overnight and heat until it concentrates as half the initial, then add sesame oil(500 mL) and boil until all water was evaporated. Then filter and get yellowish oil (25).
Edited By: Dr. Asha Jyoti Bharati
Trending Articles on Essential Oils