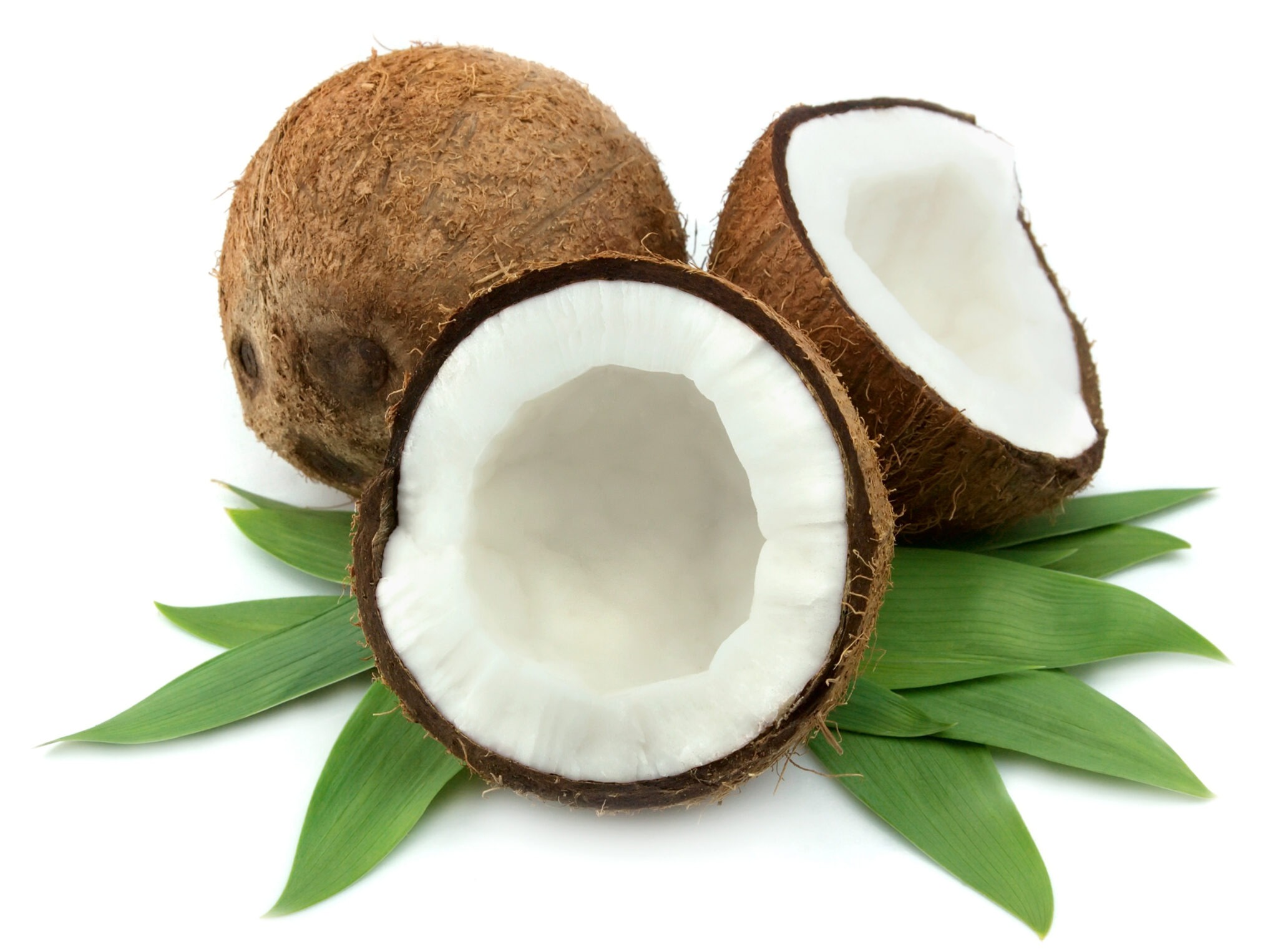 Know in one minute about the health benefits of coconuts (Cocos nucifera)
The Health benefits of coconuts (Cocos nucifera) are increased HDL protein due to lauric acid and myristic acid.
Antioxidants and polyunsaturated acids in coconut prevent atherosclerosis.
Antidiabetic also prevent Alzheimer's disease.
It prevents seizures in epileptic children due to ketone which is produced by Medium-chain triglyceride (MCT) in coconuts.
Prevents hair loss due to triglycerides in the oil of coconuts.
Keeps the liver and skin healthy, and prevents kidney stones.
Coconut (Cocos nucifera L.), is a member of the palm family (Arecaceae). It is the most naturally distributed fruit plant on earth. It is a part of food, drink, fuel, medicine, and building material for many people living near the sea (1).  The health benefits of coconuts (Cocos nucifera)are antibacterial, antifungal, antiviral, antiparasitic, anti-dermatophyte, antioxidant, hypoglycemic, hepatoprotective, immunostimulant, antihelminthic, anti-inflammatory, antinociceptive, antineoplastic, antidiarrheal, and antitumor (3).
Coconut can be taken in diverse forms which proves its popularity in modern culture. Various products include tender coconut water, copra or dry coconut, coconut oil, raw kernel, coconut cake, coconut toddy, coconut shell, wood-based products, coconut leaves, coir pith, etc (2).
Nutritional value of coconut
The human nutrition center (USDA) recommended its inclusion in the diet because it contains water, energy, carbohydrates, proteins, fat, dietary fiber, and other beneficial minerals such as calcium, iron, Magnesium, Phosphorus, and Potassium, etc (4,5,6).
Compound
Amounts per 100 g.
Coconut meat
Milk of coconut
Coconut water

Energy

443 kcal

230 kcal

19 kcal

Protein

3.35 g

2.29 g

0.72 g

Fat

31.69 g

23.84 g

0.20 g

Carbohydrates

40.91 g

5.54 g

3.71 g

Dietary Fiber

4.5 g

2.2 g

1.1 g

Sugar total

6.23 g

3.34 g

2.61 g

Vitamins
 

Folates

7 µg

16 µg

3 µg

Niacin

0.30 mg

0.76 mg

0.08 mg

Vitamin B-6

0.24 mg

0.03 mg

0.03 mg

Vitamin C

3.3 mg

2.8 mg

2.4 mg

Minerals
 

Calcium

14 mg

16 mg

24 mg

Iron

1.84 mg

1.64 mg

0.29 mg

Magnesium

49 mg

37 mg

25 mg

Phosphorus

103 mg

100 mg

20 mg

Potassium

324 mg

263 mg

250 mg

Zinc

1.59 mg

0.67 mg

0.10

Sodium

20 mg

15 mg

105 mg

Copper

0.43 mg

0.26 mg

0.04 mg

Manganese

1.50 mg

0.91 mg

0.14 mg

Selenium

10.1 µg

6.2 µg

1.0 µg
Health benefits of coconuts (Cocos nucifera)
1. Increase HDL cholesterol
Studies show that daily consumption of 30 mL coconut oil in young healthy adults significantly increased high-density lipoprotein cholesterol which is due to the high proportion of lauric acid and myristic acid in coconut (7).
2. Weight loss 
Coconut health benefits are mainly due to being high in medium-chain fatty acids (MCFAs). These fatty acids do not get stored in adipose tissue (8). Oil extracted from coconut also contains a high amount of lauric acid which is directly absorbed and prevents fat deposition in blood vessels (9). Therefore, coconut is used for weight reduction. A research study suggested that consumption of coconut oil does not cause dyslipidemia and seems to promote a reduction of harmful abdominal obesity (belly fat) (10).
3. Prevents atherosclerosis
Cardiovascular disease (CVD) is known as the number one cause of death worldwide. Coconuts are a good source of fiber and contain antioxidants and polyunsaturated acids which are beneficial to cardiovascular health (11).
A previous research study suggests that coconut with its high polyphenol content is capable of maintaining the normal levels of cholesterol and other lipid parameters and helps to prevent the development of atherosclerosis (12).
4. Antidiabetic
Coconut contains natural biologically active compounds and has the therapeutic value which has a hypoglycemic action, decreased blood glucose levels, regulate blood sugar, enhancing insulin secretion, and also reduced oxidative stress induced by alloxan in type 1 diabetes (13).
5. Fight cancer
Coconut is a rich source of saturated medium-chain fatty-acid lauric acid (LA) which has proven to have anti-cancer properties. It is especially beneficial to treat colon and breast cancer (14).
LA triggers antiproliferative and pro-apoptotic effects in both breast and endometrial cancer cells. Therefore, the consumption of coconut improves the quality of life of breast cancer patients and reduced the symptoms related to the side effects of chemotherapy (15).
6. Improves oral hygiene
Coconut is rich in alkaloids, flavonoids, catechins, and epicatechin, together with condensed tannins, which confer on its potent antimicrobial properties. Therefore, coconut has important inhibitory action against common oral pathogens, indicating the presence of highly effective antimicrobial compounds. Hence, it is proven that its use can contribute to oral health to a great extent (16).
7. Healthy skin
Coconut improves the symptoms of skin disorders by moisturizing and soothing the skin. Therefore, coconut is useful in treating skin disorders with permeability barrier dysfunction, especially those accompanied by reduced epidermal protein expression, such as atopic dermatitis, and eczema (17).
Topical coconut oil protects the skin from UV radiation. UVB-induced ROS generation plays an important role in skin aging, inflammation, and carcinogenesis. Monolaurin is an active component derived from lauric acid of coconut oil that is found to be antibacterial, antiviral, and antifungal in nature (18).
8. Prevent Alzheimer's disease
Coconut is classified as a highly nutritious 'functional food'. MCFA present in coconut is unique. They are easily absorbed and metabolized by the liver and can be converted to ketones. Ketones are an alternative source of energy that nourishes the brain.
In addition, phenolic compounds and hormones (cytokinins) found in coconut may help in preventing the aggregation of amyloid-β peptide. Hence stops a key step in the pathogenesis of Alzheimer's disease (19).
The collective effects of these two components would eventually prevent or delay neurodegeneration. Therefore, coconut is not only used as a neuroprotective agent for those suffering from neurodegenerative diseases but also use as brain food (20).
9. Healthy Liver
Hepatic disorders such as steatosis and alcoholic steatohepatitis are common diseases that affect thousands of people around the globe.
The tocopherols, tocotrienols, flavonoids, caffeic and ascorbic acids some polyphenol compounds, and Medium-chain triglycerides present in coconut have hepatoprotective effects. This may be due to its free radical scavenging effect, reduction of DNA damage, and inhibition of lipid peroxidation (21).
10. Treats epilepsy
Medium-chain triglyceride (MCT) produces ketone. This ketogenic diet is used extensively for treating refractory childhood epilepsy. Diet therefore rich in coconut can dramatically reduce the rate of seizures in epileptic children (22).
11. Prevents hair loss
Coconut oil contains triglyceride of lauric acid (principal fatty acid), which has a high affinity for hair proteins and, because of its low molecular weight and straight linear chain, is able to penetrate inside the hair shaft and reduce the protein loss remarkably for both undamaged and damaged hair (23).
12. Antimicrobial properties
Coconut contains lauric acid and triglycerides which have antimicrobial and fungicidal activity (24). Research suggested that coconut oil can be used in the treatment of fungal infections in view of emerging drug-resistant Candida species (25).
13. Improves vision
Coconut is a rich source of lauric, capric, and caprylic acid. These compounds have anti-inflammatory properties and might be useful for those with dry eye problems. It also acts as a protective layer over the tear film layers from evaporation. Therefore, coconut is safe to be used as an ocular rewetting agent on a human being (26).
14. Healthy teeth
Coconut oil can be effective in reducing plaque formation and plaque-induced gingivitis (27).
15. Strong Bones 
Coconut oil contains polyphenols, tocopherols, sterols, and squalene. These compounds prevent lipid peroxidation and increased antioxidant enzymes. That acts as a therapeutic agent in the prevention and treatment of postmenopausal osteoporosis and the prevention of fractures (28).
16. Antiviral
One of the coconut health benefits is mainly due to monolaurin an active compound derived from lauric acid. These compounds have an effective antiviral activity against HIV, herpes, and measles.  The antiviral effect of monolaurin can beneficially reduce the viral susceptibility of HIV patients (29,30).
17. Prevent kidney stone
Consumption of coconut water prevents kidney stones by inhibiting crystal deposition in renal tissue as well as reducing the number of crystals in urine. It also increases urinary potassium, chloride, and citrate. Furthermore, coconut water also protected against impaired renal function and the development of oxidative stress in the kidneys (31).
Side effects of coconut
The effects of long-term consumption of coconut oil are unknown, and rare, with only a small number of reported cases.
A study published in Pediatr Allergy Immunol supported that children with sensitization or allergy to peanuts or tree nuts were not more likely to be sensitized or allergic to coconut. Therefore it could be concluded that coconut has more health benefits than a side effects (32).
Healthy Recipes for coconut (cocos)
1. Coconut-lemonade juice
This is a perfect drink in summer. It is not only refreshing but also has health benefits. Mix lemon juice, sugar, ice, and mint leaves in coconut water.
2. Smoothie
Make this refreshing low-sugar smoothie with banana, apricot, and other fruits.
3. Milk of coconut
It can be consumed with oats cinnamon, ginger, and cardamom. Also be used in many other complex recipes like preparing prawn curry and other types of curries.
4. Coconut soup
A soup of coconut with tomato, garlic, ginger, and coriander is a good one to b sipped during the winter season.
Edited By: Dr. Asha Jyoti Bharati