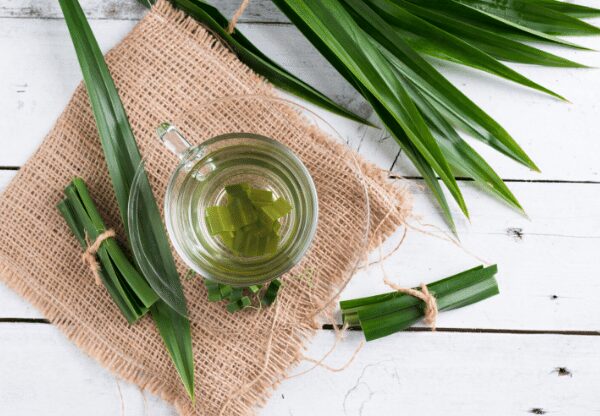 Know in one minute about Kewra water benefits
It is obtained from the distillation of the screw pine flower which gives its pleasing and soothing aroma.
This water helps in relaxing the body by reducing stress and depression.
Induces sweating and controls body temperature.
Improved blood flows and regulates heartbeat.
Prevents stomach, intestine, or urinary bladder cramp.
Effective to treat smallpox, measles, typhoid fever, dizziness, faintness, and tiredness.
Adds up the flavor and taste in sweets, desserts, and many Indian dishes.
What is kewra water?
Kewra water is extracted from male flowers (white color) of the screw pine tree (Pandanus odoratissimus Linn. or Pandanus odorifer). This tree belongs to the family Pandanaceae and is famous for restoring health, strength, or well-being. Kewra water benefits and the recipes related to this are described below.
Historically, royal families enjoyed this as the preferred flavor in foods and often used to celebrate special occasions. 
Kewra essence is made by distillation. About 1000 flowers yields approximately 10-18 L. It contains about 0.02% of the oil and is used in medicine, and flavor sweet dishes. This water is used like Rose Water or Orange Blossom Water. It is used in Iranian, Middle Eastern, and Mediterranean cuisine. Dilute before use because of its strong smell. It not only works as a wonderful flavoring agent to make the good aroma of food but also enhances the taste. 
Geographical distribution
Screw pine trees are widely grown in Southeast Asia, including the Andaman Islands, Philippines, India and Indonesia, Papua New Guinea and northern Australia, and throughout the Pacific Ocean beaches and Hawaii.
Common name
It is commonly known as Umbrella tree or Screw Pine tree (in English), Pandanus (in french) Ketaki (in Sanskrit), Keura, Kewda, Ketki, Gagandhul, Pushpa-chamar, Panshuka (in Hindi), Kiura, Kevara, Jambala, Jambul, Panshuka, Ketaki (Urdu),
Kewra water benefits
Following are the important kewra water benefits. Reduce and regulate stress level and body temperature.
1. Reduce stress
Kewra water can relieve stress and anxiety, thus also useful to prevent stress-induced disorders such as depression, diabetes, and trouble with the digestive system, or even cardiovascular problems (1).
2. Regulate body temperature
It is very effective in inducing sweating which keeps the skin surface cool and controls body temperature in hot environments or during exercise (2).


3. Good for heart
Regulate the heartbeat and improve the contraction of the heart muscle. Thus, this water may be used as a cardiotonic which leads to improved blood flow to all tissues of the body (3).

Other benefits of Kewra water
Kewra water is

very beneficial in epidemic diseases, such as smallpox, measles, and typhoid fever.

Helps in reducing the number and intensity of rashes in the early stages of smallpox 

It also helps to

increase activity in the brain, thus a person feels more awake, alert, confident, or energetic.

Relaxes muscles and prevents stomach, intestine, or urinary bladder cramps.

Dizziness, fainting,

fatigue, or tiredness can be treated by kewra water.

Also shows a wonderful effect on the treatment of rheumatic arthritis,  headache, and urinary retention (inability to empty the bladder) 
However further research study is needed to confirm these benefits in humans.
Kewra water use in a recipe
It can be sprinkled, just before serving over the dish such as kheer, custard, petha, Ras-Malai, Barfi, Gajar Halwa, Pulao, Biryani, etc. Also used in homemade lemonade or refreshing yogurt Lassi to impart a special flavor. Here are some recipes in which kewra water gives its pleasing and soothing aroma.
1. Health drinks with kewra water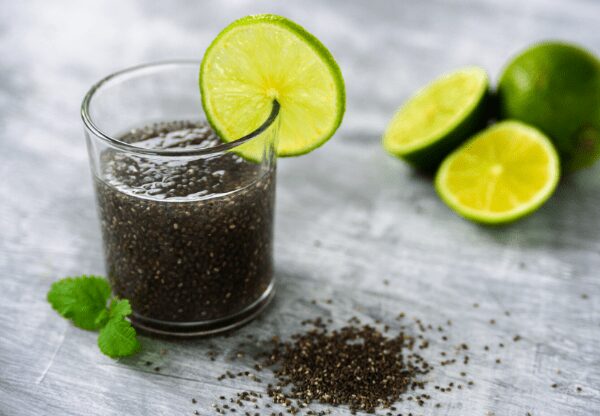 Kewra water can be used with coconut water/chia seed or basil seed to make a healthy drink.
Ingredients 
1-1/5

teaspoon Kewra water

Chia seed/ basil seed (pre-soaked 4-6 teaspoons)

1-2 teaspoon lemon or lime juice

1 glass plain water or coconut water
Method
Kewra water can be simply added to coconut water with soaked chia seeds or basil seeds.

Or we can add it with lime juice, chia seeds, and basil seeds in plain water and serve it with ice cubes.
2. Kewra bulgur salad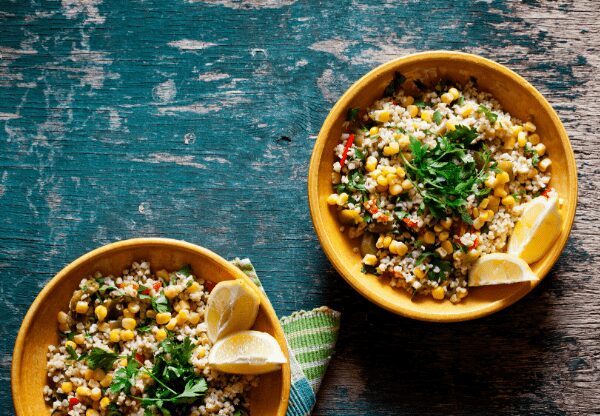 Ingredients
Bulgur wheat ½ cups

Boiling water 1 cup

Pomegranate seed ½ cup

Dates, 50 gm

Flaked almonds 50 gm

Walnut 50 gm chopped

Orange juice 1 cup

Fresh parsley, roughly chopped (small bunch)

Honey 3 tsp

Olive oil 3 tsp

Kewra water 1 tsp

Pinch of salt
Method
Place the bulgur in a large bowl with boiling water, a pinch of salt, and kewra water.

 Cover the bowl tightly and let sit for 25-30 minutes, or until all of the water is absorbed or make it tender.

Pour the olive oil into a saucepan and place over medium heat.

Next, add almonds, walnut, and dates for 3-4 minutes and put aside

Take a large bowl with orange juice and mix with

bulgur,

almond, walnut, and dates.

Add honey, pomegranate, and parsley

, toss well, and serve.
3. Kewra fruit smoothie
Ingredients
Plain yogurt 2 cups

Honey 2 tsp.

Banana 1 (sliced)

Fresh raspberries ½ cup

Fresh strawberries ½ cup

Grapes 

Dates 1/2 cup 

2 tbsp. chopped Walnuts

Kewra water 1 tsp.

Cardamom powder 1 pinch 
Method
Mix the yogurt, honey, kewra water, and Cardamom powder in a bowl. Now combine the banana slices with berries and grapes in a separate bowl, mix together. Pour into serving bowls and add chopped dates, top with the yogurt, and chill in the refrigerator for about an hour. Garnish with chopped walnuts and serve chilled.
Biryani with kewra water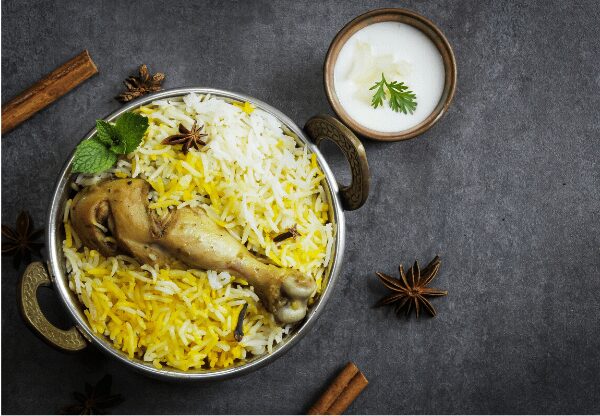 Biryani is an aromatic rice dish (Moghul cuisine) made by cooking long-grained rice (like basmati). The dish is mainly prepared by layering vegetables or chickens with kewra water and saffron that adds up a mesmerizing aroma to the Biryani. 
Ingredients
Chicken/ Fish/ vegetable (Green  pea, potato, carrot,  beans)

Basmati rice (1 cup presoaked for 20-30  min)

Ginger garlic paste 1 tsp

Salt 1 ½ tsp

Onion sliced (1 medium)

Green chili 1

Red chili powder 1 tsp

Mint leaves 1 tsp (chopped)

Green coriander half bunch

Thick fresh curd/yogurt (1 cup)

Ghee/oil (2 tsp)

Saffron ¼ tsp (soaked in  tsp hot milk)

Kewra water 1 tbsp
Spices
Cinnamon 2 sticks

Black peppercorn 6

Cloves 2

Green cardamom 4

Cumin 1 tsp

Garam masala powder 1 tsp

Ground cardamom ½ tsp

Nutmeg powder ½ tsp
Method
Wash the rice a few times until the water runs clear. Soak for 20- 30 mins. Drain the water

Cook the rice in separate vessels until it forms a firm grainy texture.

Add oil and heat to a pressure cooker or pan with a deep and flat surface.

Add cinnamon, black peppercorn, green cardamom, cumin, and clove.

Saute onion and green chili until it forms a golden

color.

Next, add ginger garlic paste and fry until the raw smell has gone off.

Add the chopped vegetable/chicken and fry for about 2-3 min or until it turns pale or white.

Sprinkle salt, red chili powder, turmeric, ground cardamom, garam masala, and yogurt.

Cook until the meat is completely cooked and the gravy thickens (in case of vegetable cooking only 2-3 min.)

Sprinkle some mint and coriander leaves. Stir well.

Spread the rice in a layer over the veggies/ chicken

Next spread the saffron flavored milk

, kewra water & ghee

Cover the cooker or pot and pressure cook for 1 whistle or cook until the water is absorbed

for another 5-8 minutes

.

Next, open the lid and you will get the aromatic, flavored Veg./Chicken Biryani. 
Q&A
What is Kewra water used for?
For enhancing the flavors of meats, drinks, and desserts in Iranian, Middle Eastern, and Mediterranean cooking. 
What do we call Kewra water in English?
Screwpine water, pandan water, or pandanus water are the English names of kewra water
What does Kewra water taste like?
It tastes like rose water but it is slightly fruitier.
How can I add Kewra water to biryani?
The characteristic rich flavor of biryani is because of the final touch-up of kewra water. The addition of 1 tsp of this water infuses uniformly into the rice, just before putting on the heat for final cooking.