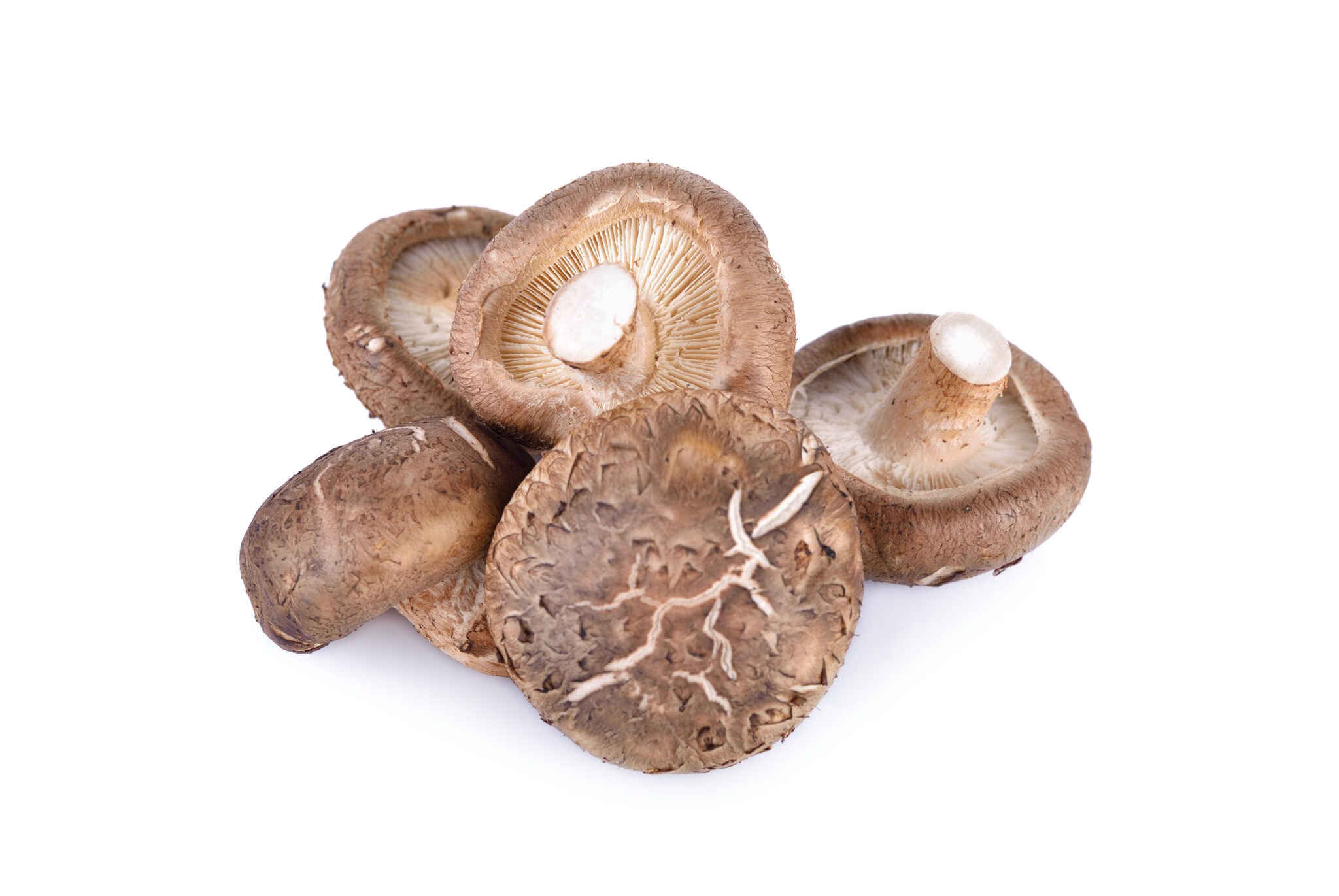 Shiitake mushroom
Shiitake mushrooms are a white-rot fungus (Lentinus edodes) that grows on dead hardwood mainly Shii tree under moist conditions. These are the third most producing mushrooms best known for their medicinal properties and rich nutrient constituents, therefore are also considered superfoods. Shiitake mushroom health benefits are used for the treatment of diseases like cancer, infections, heart disease, hypertension, diabetes, hepatitis, allergies, and flu (1).
This mushroom is largely consumed in Japan, China, and Korean countries and cultivated in a large part of Asia for the last 800 years. Japan is the largest exporter of these mushrooms to Western countries like the U.S.A because of their huge medicinal and nutrient value.
Shiitake mushroom health benefits
Some of the Shiitake mushroom health benefits are anticancer, suppression of HIV-1 & obesity, healthy heart, and liver, antidiabetic, and boost immunity.
1. Antiproliferative or anticancer
Water extract of shiitake mushrooms inhibits or stops unwanted cell growth in the human breast adenocarcinoma cell line (2). In simple words, we can say that shiitake mushrooms help in stopping cancer cell growth when consumed directly boiled in water.
  2. Prevents colon cancer
Colon cancer is one of the most common cancers in humans and also a major reason for death. A study done in 2002 showed that oral consumption of shiitake mushrooms helps in the reduction of tumorous cells in the colon thus preventing colon cancer (3).
 3. Suppress the HIV-1 virus
Shiitake mushrooms are rich in the protein "lentin" with strong antifungal and antiviral activity. Lentin protein has an inhibitory activity and helps in stopping the HIV-1 virus. This protein also helps in the inhibition of leukemia cells and thus may help in preventing blood cancer(4).
4. Antioxidant Activity
Shiitake mushrooms have an incredible antioxidant property thus preventing cell death. This indirectly helps the body to fight against many types of cancers, heart diseases, and other degenerative diseases (5).
5. Healthy Liver
Shiitake mushrooms are rich in Vitamin D which is known for its anti-inflammatory property. Therefore oral administration of vitamin D-rich mushrooms helps in curing hepatitis by anti-inflammatory activity and thus helps in keeping the liver healthy (6).
6. Healthy heart
Low cholesterol deposition and excretion of excess cholesterol are the secrets of a healthy heart. Shiitake mushroom is able to lower serum cholesterol via a factor known as eritadenine. Therefore it not only helps in lowering the absorption of cholesterol but also excretes cholesterol from the body (7). Shiitake has the ability to reduce cholesterol levels in the blood vessels by 25% in just one week (8).
7.  Boost immunity
Consumption of shiitake mushrooms helps in increasing immunity. Shiitake mushrooms help in the reduction of inflammation of the body thus boosting the immune system of the body (9).
8. Glowing skin
According to a research paper published in 2012, shiitake mushrooms help in enhancing the brightness of the skin. It was found that shiitake mushrooms have antioxidant compounds along with kojic acid which is a natural alternative to hydroquinone, a chemical that bleaches your skin to fade scars and age spots (7).
9. Prevents obesity
Shiitake mushrooms help in the reduction of weight. A study done in the year 2011 (10), Shows that shiitake mushrooms help in secreting fat from the body thus lowering the fat and other harmful cholesterol.
10. Antibacterial activity
Shiitake mushrooms contain many important proteins, lipids (linoleic acid), carbohydrates, fiber, minerals, and vitamins. These compounds present in mushrooms help act against many deadly disease-causing bacteria for tuberculosis and listeria.
11. Antidiabetic
In a recent study done on mice in the year 2015, it was observed that consuming shiitake mushrooms helps in reducing the risk of diabetes. Therefore shiitake mushrooms help in reducing hyperglycemia and induce insulin secretion in the body (11). Shiitake intake in the form of vegetables or in the form of tea can, therefore, help in reducing diabetes.
Side effects of Shiitake mushrooms
Mushrooms are well known for their health benefits but on the other hand, it has some side effects also when consumed in excess or not fresh. Some of the shiitake mushroom side effects are as follows
1. Allergy
Some people may experience allergies because of the spores of the shiitake mushrooms. Inhaling the spores by some workers during harvesting experiences mushroom workers' lung symptoms which include a headache, fever, coughing, sneezing, and nausea (12).
2. Diarrhea
Daily consumption of shiitake mushrooms may cause diarrhea in some people. Although they are safe it will usually take some time to get used to this mushroom.
3. Skin disease
Eating raw or undercooked shiitake mushrooms leads to dermatitis (13).
Shiitake mushroom tea recipe
6 simple steps for the preparation of shiitake mushroom tea (one cup) is
Soak dry one or two shiitake mushrooms (15-20 mins)

Cut into small pieces including the stem

Boil water shiitake mushroom in water (5mins)

Add soya sauce 4 to 5 drops of or any other sauce

Covered for 5 more minutes

Drink it along with the mushrooms
Shiitake mushroom soup
Simple soup recipe (vegetable or chicken) – 8 simple steps
Soak dried shiitake mushrooms (15-20 mins)

Chop it into pieces

Take a pan and add 2 tablespoons of olive oil

One chopped onion or green onion, garlic 3 to 4 cloves, of salt, and pepper

Stir the above for 3 to 5 mins then add shiitake mushrooms

Cook until it gets juicy (5 mins-7 mins)

Add either half-boiled vegetables or chicken or both along with the broth

Add soya sauce and cook it for 5 to 10 mins.
Shiitake mushroom spaghetti recipe
Ingredients
Shiitake mushrooms 200 grams

Red & yellow bell pepper 1/2 chopped
Garlic 2 cloves chopped
Spring onion chopped
Spaghetti boiled
Cream 2 tablespoon
Salt, pepper & oil